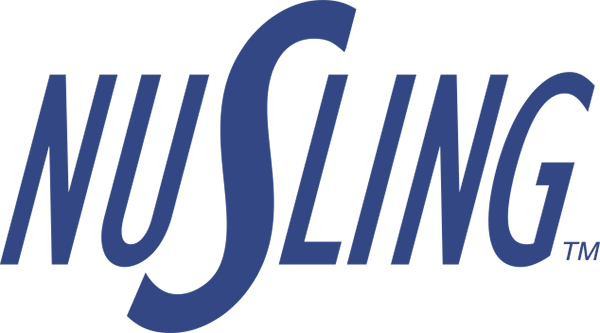 Actual Patient Testimonials About the
NuSling Magnetic & Comfort Arm Sling
"Five years ago, I had elbow replacement surgery. Not all that unusual as we begin to age, and I'm 85 years young! It took a while to get my elbow right, but once my right arm was functioning properly, it was worth the effort to address my problem. The only concern that I have today is that my repaired arm tends to become tired very easily. A friend noticed that I had developed a habit of supporting my repaired arm with my good left arm. My friend was so kind as to provide me with an Active Arm Supports NuSling, and I love it! It really doesn't interfere with my daily activities but my comfort level has improved considerably."
— Thelma S.
"Replacing my blue sling with a NuSling for my broken arm was so liberating! I could move the arm and shoulder so much more, giving me more confidence walking around as I had better balance. All my neck and shoulder pain went away. Being able to readily detach the arm from the sling made all the difference in improving my quality of life as I could start using fingers more and position myself more comfortably. I would recommend NuSling Magnetic to any one who has to wear a sling!"
— Joey M.
"I'm in a unique position to talk about Active Arm Supports NuSling. I had rotator cuff surgery on the left side and right side five years apart. On the occasion of the first surgery, the NuSling wasn't available. At the hospital they gave me the standard issue blue cloth and webbing sling. It was uncomfortable and restricted my ability to perform everyday tasks. After the second operation I was given an Active Arm Supports NuSling to use and the contrast between the two products was nothing short of stunning! The NuSling was comfortable and accommodating. It provided superior immobilization, yet allowed exceptional flexibility of movement on those occasions when I needed to use the injured side for simple tasks. I believe my second recovery period was significantly easier and much shorter thanks to these features. The NuSling reminded me of the first time I hefted a high performance back-pack for hiking. In conclusion, the Active Arm Supports NuSling was an 'engineered' product thoughtfully designed with my comfort and quick recovery as its foremost concern. By comparison, the hospital-issue sling was just something cobbled together as a convenience to the doctors and hospital staff…a quick, cheap means to give them a couple of straps where they could hang my injured limb."
— James L.
"I have had seven surgeries on my hands since 2003. In each instance I found that the strain on my shoulders caused by the arm slings I was given to support my injured hand was almost as painful as the hand surgery itself. The Active Arm Supports NuSling redistributed the weight and pressure and greatly reduced the strain on my shoulders."
— Debbie N.
"What a great concept! I have had three shoulder surgeries in the past. Recently, I had a total replacement done on the left shoulder. I have had complications that necessitated a second surgery on the titanium joint. Once it is healed, I will have the right shoulder replaced. Needless to say, I have been in and out of slings on both arms for almost 10 years. The Active Arm Supports NuSling has been a great improvement over all other slings that I have tried. It is so comfortable and easy to use! Even with limited use of both arms, I can easily put this sling on. I also have cervical disc degeneration and fusions. With an old fashion sling the weight of my arm always put stress on my neck creating additional pain. This sling disperses the weight so well that it has changed my comfort level and recovery. Thanks!"
— Irv
"I recently had surgery on both of my thumbs to alleviate pain from osteo-arthritis. In addition to general anesthesia, my surgeon also recommended a nerve block for the arm and forearm for post-surgery pain control. Needless to say, immobilizing my arm was essential. I left the surgery center with a conventional sling, and transferred to an Active Arm Supports NuSling when I was home. The ease and comfort of it was incomparably so much better, I discarded the surgery center issue sling. Additionally, the simplicity of getting in and out of the NuSling made it so much easier to keep my hand/arm elevated and iced following the surgery. In a word, the Active Arm Supports NuSling is Great!"
— Ed M.
"When I had my rotator surgery in 2006 I used the sling when I was traveling. It was much more convenient and yet still kept my arm in a position that the doctor had required. I wouldn't recommend the surgery but the sling proved to be useful and it made life a lot easier."
— Chris P.
"I play forward on my high school hockey team. During a game in the early part of this season I injured my shoulder. My orthopedist diagnosed with an MRI a torn labrum, broken humerus and other torn muscles. At first I used a conventional sling that needed constant adjustments and was so obvious to wear but later was introduced to the Active Arm Supports NuSling. The padded neck was very comfortable and the magnetic cuff was much less noticeable. The NuSling was easy to put on with my injury and the magnet is awesome. After 6 weeks I healed and my team won the state high school championship in March."
— Charlie
"Thank you so much for introducing your innovative product to myself and my coworkers at the hospital where we work in Acute Care. For so long, various versions of slings to support arms, whether after injury, surgery or CVA have been proffered as "The Support Solution." The Active Arm Supports NuSling, however, seems to me to be heads and shoulders above the rest. (J Sorry, couldn't resist.) All the feedback I have received from the Therapists working in Outpatient has been very positive. But, my input is more personal: My father in law had a debilitating CVA in 1989. It resulted in an essentially non-functional upper extremity (as well as taking away any functional speech and significantly limiting his mobility). My mother in law cared for him at home for 18 years. Unfortunately, successive falls, each accompanied by a decline in independence made the move to long term skilled care a necessity. Despite the good care received, my dad's arm was injured again and again during transfers out of bed, off the toilet, onto his scooter. No satisfactory support to protect that arm was available, even the scooter "desk arm" my mother in law ordered for static support when motoring about proved to be insufficient and the arm remained dangling in a dependent position increasing edema and more injury was caused. After listening to your InService presentation, I immediately thought that the Active Arm Supports NuSling might be the answer to protecting him from further injury. My father in law has been wearing it now for approx 1 month. The edema is down, the skin color is better in his hand, and my mother in law reports no new injuries! I had worried about his willingness to wear the sling whenever up out of bed all day. But when questioned about if it is uncomfortable to have it on, by feeling a pull on the neck, he very adamantly shakes his head and repeats "Good!" over and over. My mother in law states that he even takes the initiative to make sure the aides put the Active Arm Supports NuSling on prior to leaving his room in the morning. I thank you so much for the extra effort and time you gave to make this truly positive change happen in my family's life."
— Vicki, OTR